Chiropractic Marketing with Every Door Direct Mail
Every chiropractor knows that you can't increase revenues, and grow a practice, without bringing on new patients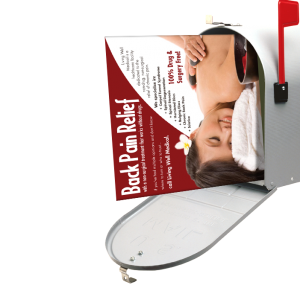 consistently.
But practice growth is never easy. Sure you may luck into several great referrals each year, but you will also have patients that leave or decide to eliminate treatment plans from their budgets. So, in other words, you can bring on new patients, and still see your practice decline in revenue.
The key to practice growth success rests in finding a marketing solutions that acutally works while generating the highest possible ROI. And there is no shortage of options to do so.
Let's look at the ever-growing list of marketing options:
- Twitter & Social Media
- Radio Ads
- Television Commercials
- Shared Mail (envelope stuffers)
- Newspaper Inserts
- Email Campaigns
- Google Adwords (PPC)
- Medical Center Partnerships
- New Mover Programs
White it's true that many of these option can provide value (depending on the type of results your looking for), none of them guarantee that your ads will be seen and considered by the end user.
There must be a way to virtually "force" a prospect to see your offer and make a decision as to, "...do I want this offer or not?"
Right?
Welcome to Every Door Direct Mail®, the ultimate method of delivering GIANT chiropractic flyers and postcards to every local mailbox surrounding your practice.
Every Door Direct Mail® from the U.S. Postal Service®, is designed to help you reach every address, WITHOUT ads from competitors, at very affordable rates.
Even better, you can design, print, and schedule your direct mail campaign - online - in ten minutes or less, at EveryDoorDirectMail.com
"ALL-INCLUSIVE" EVERY DOOR DIRECT MAIL®:
Includes Multiple Design/Artwork Options
Includes Full-Color, Glossy Printing
Prints on Quality Card Stock or Paper
FREE "Point & Click" Online Mapping Tool
Includes all Required USPS® Prep & Paperwork
Includes USPS® Postage & Delivery to Homes
Better still... you can do everything (design, print, and mail) for as low as 29¢ per home.
Chiropractors across the U.S. continue to direct mail millions of offers with success. At the end of the day, there is no other advertising medium that reaches prospects so directly, for such a small investment.
Typically the day your mail delivers, you start receiving responses (new patients).
Good luck, and happy marketing.