Postal Carrier Routes: Everything You Need to Know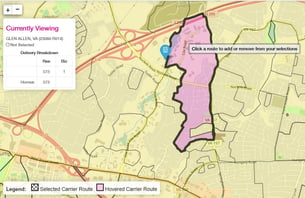 What is a postal carrier route?
A postal carrier route is a group of mailing addresses (i.e. neighborhoods) that receive the same USPS® code to aid in mail delivery efficiency.



How are carrier routes identified?


Complete postal carrier route codes are 9 digits long.

Example: 23060

R009




The first (5) digits indicate the ZIP Code, the next digit is a letter which defines the route type (i.e. R for Rural), and the last (3) digits are the carrier route code (i.e. 009)





How many carrier routes exist in the USA?


There are roughly 600,000 carrier routes in the United States. Approximately half of these carrier routes represent actual physical geographic boundaries where mail is delivered. The other half, are dedicated to Post Office Boxes.



How many carrier routes are in each ZIP Code?


With approximately 40,000 ZIP Codes in the USA, there are roughly 15 carrier routes per ZIP Code.



Can you send advertising mail by carrier route?


Carrier route mailing is often referred to as saturation mailing. Many advertisers wrongly think that a saturation mailing must be conducted at the ZIP code level, however, this is not true. Saturation mailing by carrier route (i.e. Every Door Direct Mail®) offers the maximum postage rate discounts from the USPS®.



How can I view and mail to carrier routes in my area?


Taradel's Mapfire app is the most popular carrier route mapping tool. You can use it to get counts of homes, businesses, and PO boxes in each route, and also view demographic information (i.e. age, income, etc) of the people who live within the area.



Is Every Door Direct Mail® a carrier route mailing program?


Yes. With EDDM, your mail offers deliver to every residential mailbox within the targeted carrier routes. You can include or exclude business and PO boxes at your own discretion.



What types of businesses and organizations use carrier route mailing?


EDDM is popular among small businesses, retailers, medical and dental practices, restaurants, churches, automotive dealership and service centers, dry cleaners, car washes, insurance agents, realtors, home and appliance stores, and many others. Service providers such as electricians, plumbers, and HVAC professionals successfully use EDDM as well. It is ideal for advertisers who require "blanket coverage" in local areas.


---



Want to see the carrier routes around your home or business>


Type in any address to view postal carrier routes with Taradel's Mapfire app. You can easily target audiences, create offers, and launch direct mail + digital ad campaigns.