2013 Direct Mail Response Rates & Helpful Tips
Direct Mail Response Rate F.A.Q.
Every Door Direct Mail™ response rates and industry averages. Plus, marketing tips and strategy analysis for improved results.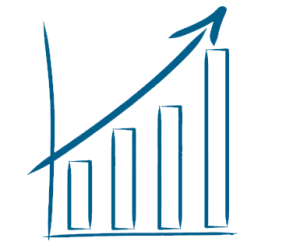 What will my response rate be using Every Door Direct Mail? If you had to guess, what do you think would be a realistic response rate?
Based on the most recent Direct Marketing Association (DMA) report, the industry average for saturation (general public) direct mail campaigns is 1.28%. Normal response rates vary between 0.05% and 2.5% depending on the industry. Direct mail campaigns outperform email marketing by far ---with email response rates at only 0.03% (general public).
What can I do to get the best response? What should I focus on?
The best approach to direct marketing depends on your goal(s). If you need to make the phone ring, or send customers to your website, you should build your creative/artwork around these goals. If you are seeking to raise awareness about an event or current issue, you will need to adjust your messaging accordingly.
What are the 5 best tips you can provide on direct mail marketing to improve my response rates?
Based on years of experience, and with more than 10,000,000 postcards and flyers mailed, our marketing team advises advertisers to focus on the following five best practices to get the most out of your direct mail campaign.
1. Know Your Audience — The people who will be receiving your mail will determine the success or failure of your campaign. Make every effort to appeal to this target audience with offers, instant benefits, and sales copy that will appeal to their current needs, wants, interests, or trends.
2. Focus, Focus, Focus — If you are mailing out a postcard, for example, do not overload the creative with too much copy, too many images, or too many offers. The more information you add to your mailer, the more diluted your message and offer will become. In most cases, a laser-focused offer and benefit-oriented sales copy will provide the best response rates. Limit the number of colors and fonts used to display your sales copy for improved readability.
3. The Offer is

Everything

— Why should people call you, visit your website, or place an order when they receive your direct mail collateral? Generally speaking, your offer is everything. Use coupons with aggressive offers, value adds, and limited time promotions to drastically increase your response rates. Position your offers in such a manner that recipients instantly benefit by taking immediate action. Also, be mindful of your local competition and current trends when building your offers.
4. Know Your Limits — The best chef in the world can be a novice when it comes to marketing his restaurant. If you are not an experienced graphic designer or sales copywriter, do not try this at home. Always leave the creative process to professionals to get the best end results. It is not uncommon for business owners to "damage their brand" by mailing out low-quality direct mail offers that confuse, frustrate, or negatively alter perception among direct mail recipients.
5. Track Results — Use campaign-specific phone number tracking, coupons, barcodes, or web URLs to accurately gauge your goal conversion rates. Without tracking, you will never know if your campaign was a short-term, or long-term, success.
Is there a marketing consultant available to speak with me and help me get started?
Yes! We offer FREE direct mail marketing consultation by phone. Call 1-800-481-1656 to schedule a FREE consultation.
What other things can impact my response rate and/or sales?
There are countless factors that can impact your response rates. Here are several of the most common factors:
Offers/coupons
Local competition
Holidays
Weather
Reputation/Brand Recognition
Target Audience
Direct Mail Frequency
Size of Direct Mail Piece
Online Reviews
Design & Creative Layout
Sales Copy, Images, and Graphics
And much more&ellipsis;
How much is spent on direct marketing/diret mail in the U.S. each year?
In 2012, advertisers spent $168.5 billion on direct marketing in the U.S. This accounted for 52.7% of all advertising expenses.
How else can I use direct mail to promote my business or organization?
It's 2013, the digital revolution is now an integral part of most marketing campaigns. The role of direct mail is evolving and remains an extremely viable component in almost all vertical markets. Do not underestimate the power of incorporating your online presence into direct mail campaigns. Always include links to your website, landing pages, and your social media presence where applicable. QR codes are an easy, free, and convenient way for all marketers to instantly integrate their offline and online marketing campaigns. Another example of this digital integration can be seen in the Twitter #hashtags found on advertisements in national publications, tv commercials, and direct mail pieces alike.
About the Author
Chris Barr is the Marketing Director for EveryDoorDirectMail.com (powered by Taradel), an Inc. 5000 company for five consecutive years. Chris graduated from Christopher Newport University in 2004 and has worked with more than one thousand small business owners and franchisors since 2006. For more information call (800) 481-1656.