EDDM®: A Marketing Solution Designed for Small Business Owners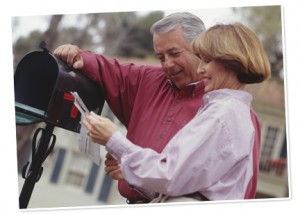 By now, you probably know that EDDM® is the easiest way to target, create, and mail local offers.
Do you remember the days when you had to purchase expensive mailing lists, print hundreds or thousands of labels, and coordinate complex mailing processes just to mail offers to local homes?
Thankfully, those times are long gone. Now, you to launch high-powered local EDDM® campaigns in 10 minutes or less from EveryDoorDirectMail.com.
And, that's exactly why the small business sector (businesses with less than 500 employees) has adopted EDDM® with open arms. Simply put, there is no other marketing platform which delivers physical offers directly into the hands of prospects' — for less.
Quick Facts: The Role of Small Business in America
There are almost 28 million small businesses in the United States. These businesses, powered by passionate entrepreneurs and innovators, account for more than 50% of the working population.
Amazingly, small businesses have produced over 65% of net new jobs since 1995.
And only those businesses who understand marketing and sales last for the long haul. According to government statistics, seven out of ten firms survive at least two years. Half survive for five years, and a third survive ten years or longer.
Reaching the Right Customers with EDDM®
The old saying, "work smarter, not harder&ellipsis;" applies to marketing quite well. The Every Door Direct Mail® service is inherently a "saturation" direct mail solution. This is because every single residential mailbox within a targeted area, receives an offer in the mail.
However, that's not the end of the story&ellipsis;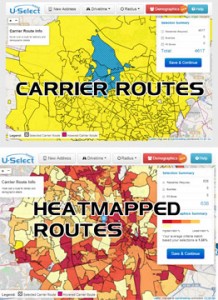 What if there were a way to target entire postal routes, using demographic indicators? Since most neighborhoods contain homes and individuals with similar income levels, age ranges, and socioeconomic attributes, targeting entire postal routes would be a smarter way to use saturation mailing.
At EveryDoorDirectMail.com, you can literally "heatmap" your local market using demographic selections. In doing so, you can mail offers to only the best prospects, thus eliminating wasted ad dollars. (View before/after image to the right)
And it REALLY works. The average small business mails over 8,000 offers per campaign using EveryDoorDirectMail.com's online mapping tool.
Multiple Design Options for Every Type of Small Business
Another driving force behind the small business community's embracement of EveryDoorDirectMail.com, is the variety of design options available for every campaign. In fact, there are three design options available for every campaign: "My Design", "Free Templates", and "Professional Design Service".
To get started with the "My Design" option, business owners (or their agencies) can upload print-ready artwork (.PDF files).
EveryDoorDirectMail.com also offers thousands of FREE design templates — spanning virtually every industry for those businesses who do not have creative capabilities. These templates are professionally-customized at no additional charge with any EDDM® order which is a huge plus for businesses with limited budgets.
For truly unique results, and fully-unleashed creative potential, a "Professional Design Service" option is available for fees ranging from $100 to $200 extra. This option delivers agency-quality results and start-from-scratch flexibility when it comes to developing and implementing new concepts.
Saving Time (and Money)
All-inclusive EDDM® services, such as those provided with all EveryDoorDirectMail.com orders, delivers a hidden bonus to small business owners — it saves time. A LOT of time.
The average EDDM® campaign requires dozens of pages of paperwork, and manual labor prep work, prior to mailing. From printing out and signing forms, to bundling mailpieces by the hundreds — most business owners do not have the available time or know-how required to manage mail operations. And besides, they should be focused on operational excellence and profitability.
With EveryDoorDirectMail the small business community can target, design, print, and mail offers — to every local prospect — in ten minutes or less.
That's real progress, and it helps the most vital part of the U.S. economy, the small business sector, grow and flourish.