How many new patients should a dental practice add per month?
How many new patients should my dental practice add each month?
It's an important question — and every dentist needs a strong new patient acquisition strategy to ensure growth, encourage referral business (which is part of the strategy), and ultimately, reach profitability.

According to PatientNews, dental practices should add 24-50 new patients per dentist, as an average monthly rate.
While this number may seem daunting, especially to those without marketing experience, it is quite easy to achieve using the methods outlined below.

But first, let's go over basic marketing principles:

• Reach & Frequency
Reach (number of prospects you target) and frequency (how often your ads reach each prospects)

• Channel Selection
Channels (postcards, Facebook, etc.) are the media distribution methods you choose to reach prospects. These channels should be selected based on your audience demographics.

• Budget
This is a no-brainer — budget is the amount you'll spend each month to advertise.

• Commitment
Marketing is about reaching the right prospect, with the right offer, at the right time. You need to commit to a long-term marketing strategy so that your ads are front and center when prospects need or want your services. Consistency is also key to building brand awareness and trust, especially within local communities.

Offer
The primary incentive used to drive appointment bookings. A great offer delivers maximum value, leans into competitive advantages, and is super-easy to redeem. Typically, time-sensitive offers perform best.

• Timing
In most cases, your ads should be running 24/7. But with certain media, such as direct mail, it is crucial that your ads deliver at the right time. For example, you may not want your postcards to deliver to homes during peak Spring Break season, during Holidays, or during a major weather event, such as a hurricane or blizzard. Always think ahead to avoid costly mistakes and boost potential for return on investment.

With those basics understood, let's take a look at the most effective marketing methodologies for dental practices. While all of these methods listed below are powerful drivers of new patient acquisition, it's important to remember that the sum of marketing efforts are greater than the parts.

Dental marketing campaigns should include a healthy mix of media designed to match the consumption habits of modern consumers.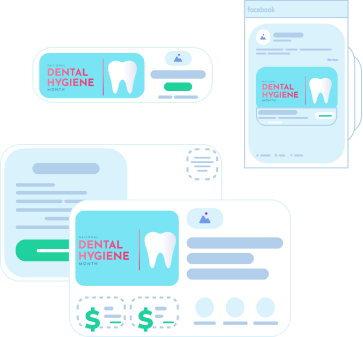 Direct Mail
Dental postcard marketing is a deeply-effective marketing tactic with intrinsic benefits that simply have no equal. For starters, the USPS can reach every household in your market area.
No other media channel has this advantage as even the largest social media platform maxes out at around 70% market coverage in perfect conditions. Postcards are also tangible and viewed by consumers as more meaningful and trustworthy than other types of ads.
Multiple studies, like this one and this one, show that humans are wired for physical interaction — and tactile experiences are not to replaceable. Every dental practice should use direct mail.

Facebook Ads
When it comes to social media, Facebook is light years ahead of other platforms in terms of monthly active users, and efficacy. A recent study found that 74% of small business owners plan to use Facebook advertising in the year ahead, with Facebook ranking as the top driver of return on investment (excluding referrals) against all other channels. Additionally, 80% of Facebook users access the platform on mobile, which means your ads can reach the right audience any time, anywhere.

Google Display Ads (also known as banner ads)
Locally-targeted Google display ads are less about direct response, and more about branding. When running a multichannel campaign (such as with postcards and Facebook ads) it's important to build brand awareness so that users are more likely to click on ads when they see them. Simply stated, people click on ads more often when they trust the source. Display ads are perfect for this — they're cheap, have high-visibility, and can be targeted to locally-based users as they browse the web (on any device).

Google Search Ads
Intent-based marketing is expensive, requires consistent optimization, and requires expert campaign management, that's the bad news. The good news is that when done right — the sky is the limit. Search is still king when it comes to local marketing and if you can establish a viable Google search ad campaign, with economics that make sense, you will have a consistent stream of leads and new appointments coming in daily. Just make sure you've got a tech-savvy marketing expert on your team before you start. You'll want to get your website tracking code and conversion funnel in place before you spend a dime.
Referrals
Create a referral program and encourage your existing patients to share, share, share! The more your patients talk about you online, the more their friends and family will see your name. Over time, this creates a virtuous cycle and steady stream on new patients). You can encourage patients to review your practice on Google, Facebook, and other platforms. Some practices have gone so far as to set up selfie stations that encourage user-generated content (i.e. branded backdrops with fun statements that patients will be proud to post on social media). Get creative and build out a referral program that makes sense for your patients and practice.
Ready to reach new patients?
Use the free Mapfire tool to discover the best prospects in your area