The force is strong with Disney's new Star Wars direct mail campaign
With indications that a global recovery from the pandemic may be underway, the travel and leisure industry is poised to make a comeback — in other words, people are ready to get out of the house.
According to a recent Expedia report, which polled 12,000 travelers, "40 percent of U.S. travelers say they are more willing to treat themselves and spend money on their next trip. 2022 will be all about splurging on the things that make a trip go from good to great."
And where better to splurge than at the legendary Walt Disney World® Resort?
Enter Disney's all-new attraction: Star Wars™ Galactic Starcruiser.
(The non-stop, 2-day Star Wars adventure where you will operate a Starcruiser, join top-secret missions, train like a Jedi, taste galactic cuisine, and embark on an excursion to Batuu. Let's go!)
A smart, modern approach to direct mail advertising
Disney is a data-driven, marketing machine loaded with the world's top creative talent, technological advantages, and a very, very large budget.
With so much firepower, Disney is heavily promoting the Star Wars experience (opens Spring 2022), with an emphasis on building awareness, across an ocean of digital and traditional media channels.
The massive effort spans Youtube videos, influencers, sponsored content on blogs, user-generated social media content, print advertising, billboards, and ads running on just about every relevant streaming and traditional media channel.
Much of the campaign is focused on brand awareness, with a heavy focus on digital as fans eagerly await opening day.
Afterall, if digital advertising is great at one thing, it's building awareness — cheap, scalable, engaging, and shareable awareness.
But conversely, Disney knows that, at some point, their massive investment into awareness-building must translate into bookings, vacations, and the lucrative in-park purchases that follow.
Enter Disney's ultra-cool, integrated direct mail strategy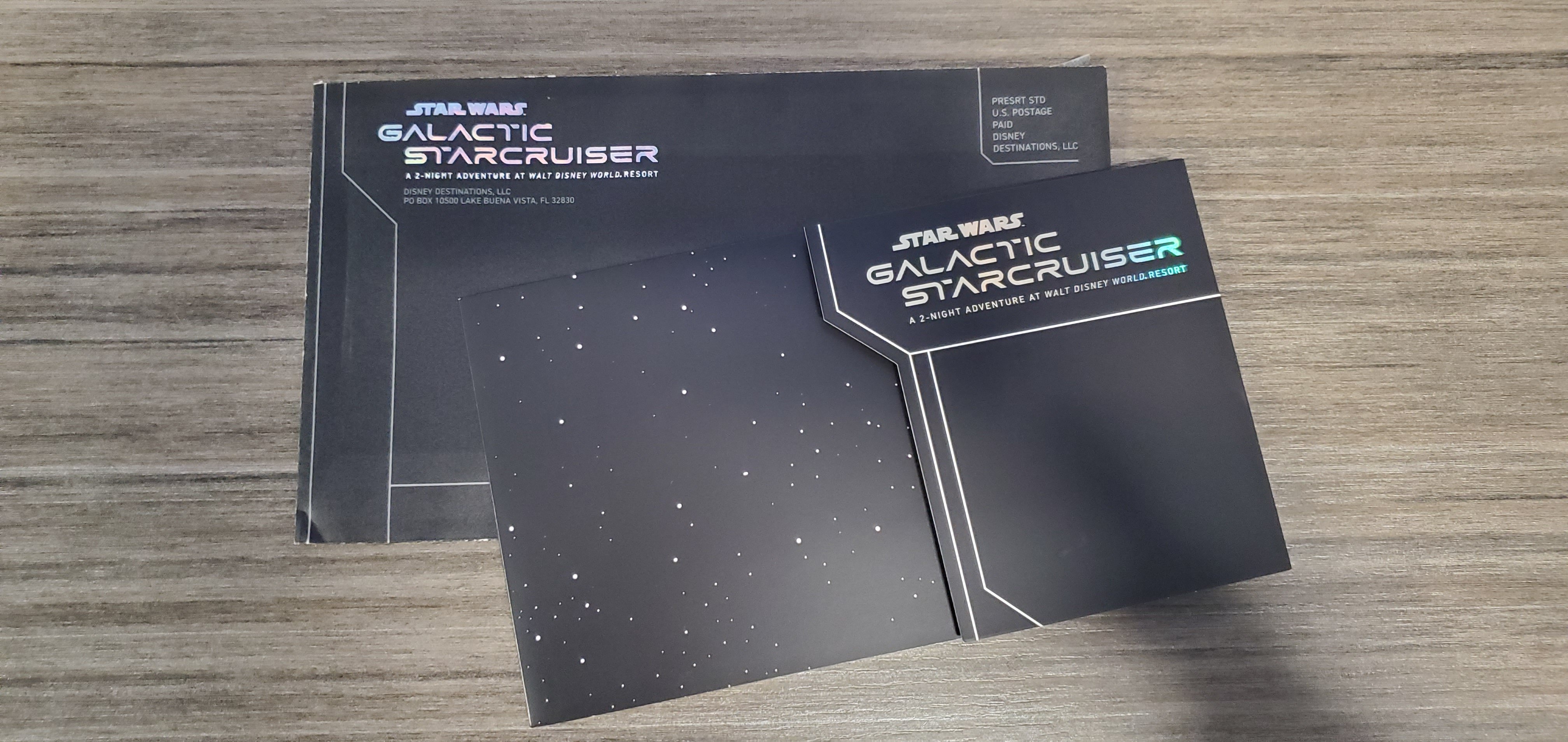 Star Wars might be fictional, fantasy-land type stuff (although these lightsabers look legit), but the science behind direct mail advertising couldn't be more real.
Direct mail is more effective than digital channels at motivating purchases.
Neuroscience studies like this one, and this one, have proven that tangible media produces deeper and more personal connections, creating a bias towards action and higher response motivation.
It's difficult to articulate, but direct mail is effective because its tactile nature lights up the human brain in a unique way.
Direct mail requires people to stop, think, and consider offers, without the constant distraction of notifications, swipes, texts, beeps, and entertainment. It has a feeling, unique aesthetics, dimensions, and even a pleasant (just me?) smell of paper and ink.
For all of its merits, though, direct mail has one key disadvantage compared to digital, and it has to do with response mechanisms...
Convenience.
The return of
Darth Vader

QR Codes

There is nothing more convenient than transacting online. Whether re-ordering groceries, scheduling the kids' appointments, or booking your next to trip to Disney World, it's just easier to do everything online.

As evidenced by the inclusion of QR codes on the Star Wars direct mail pieces, Disney understands this concept, too.

With these magical little squares, Disney is able to deliver the best of both worlds: efficacy and convenience.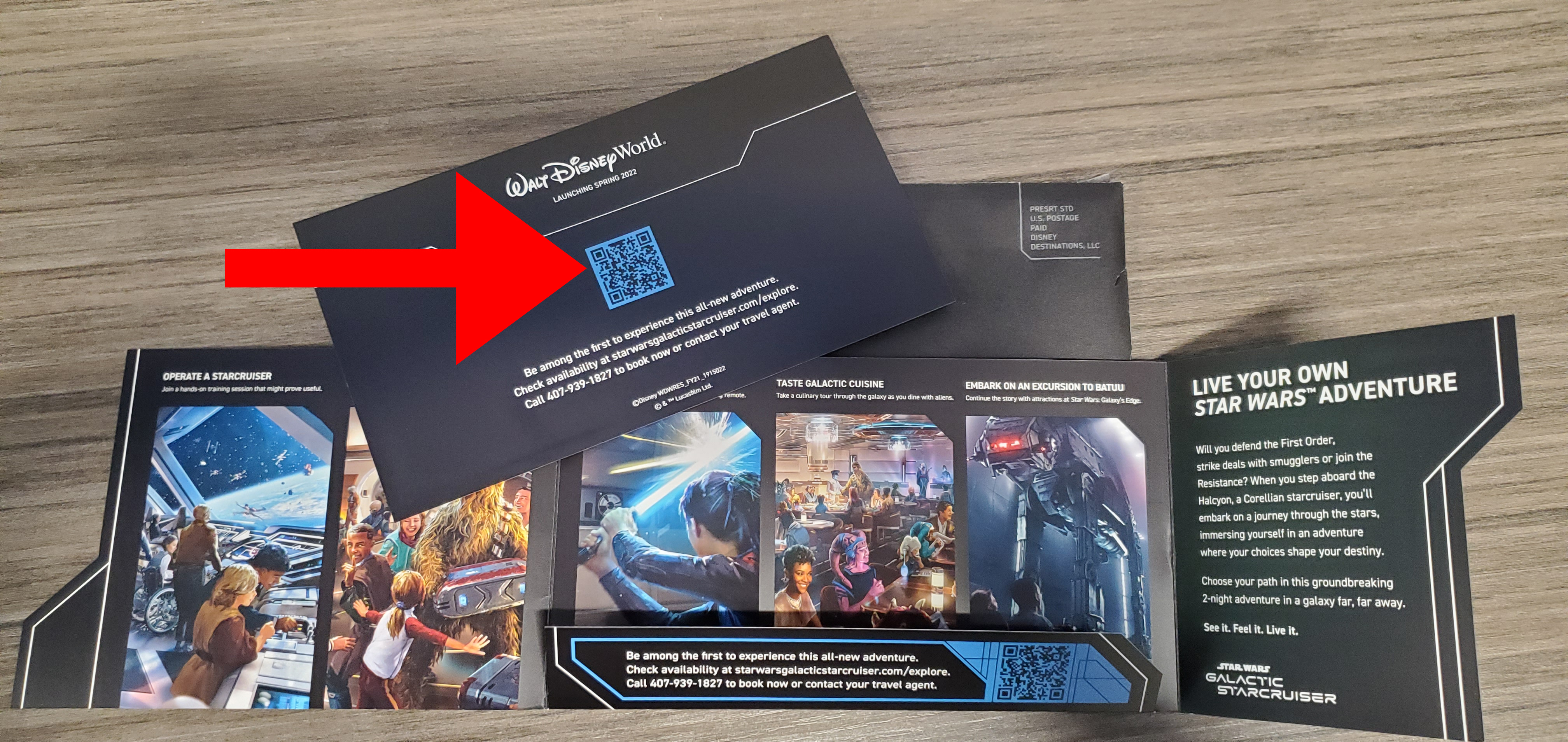 In the past, consumers viewed QR codes as gimmicky and even inconvenient.
But things have changed. Modern smartphones have native QR detection which do not require any additional downloads or apps.
Additionally, and importantly, the pandemic led to a major shift in QR code adoption and use. A recent survey found that 82% of respondents in North America have used a QR code at least once, with more than 70% using codes within the past month.
Another study from the National Restaurant Association found that half of U.S. restaurants now use QR codes for menu presentation, payment, and other key business operations.
The need for "contactless" experiences forced (or mandated) health-conscious consumers and businesses to embrace QR codes. And now, they're a part of every day life.
Advertisers benefit, too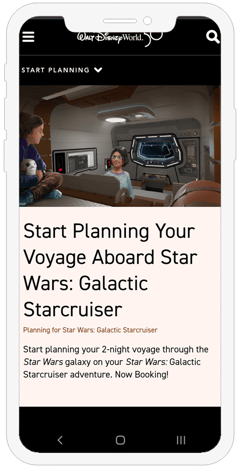 The Star Wars campaign uses QR codes to automatically land respondents on a trip planning website. The destination showcases thrilling experiences, hotel accommodations, and vacation packages — all of which users can easily book online.
From a marketing perspective, this is great for both consumers AND advertisers. Every QR code scan leads to additional value in the form of:
Direct mail performance tracking (measure the campaign's response rate)
*The QR code adds UTM "CMP=VAN-DIRECTMAIL-SWGSC-FY22Q1" to the string
Remarketing capabilities (anyone who scans the mail piece can be retargeted online)
Website performance metrics (users generate aggregate engagement metrics)
Database growth (larger marketing list, more data, more future growth opportunities)
Conversion data (the number of new accounts / purchases attributed to the campaign)
At the end of the day, integrated marketing campaigns are solid investments because they can be measured. And, success is measured by return on investment.
Conclusion
Disney's Star Wars direct mail campaign is brilliant, engaging, and well-executed. It is a masterclass in modern marketing that clearly demonstrates how direct mail and digital ads can (and should) work together.
May the force be with you... as you create campaigns for your business.