What is the average monthly small business marketing budget?
How much does the average small business spend on marketing each month? Is it $500? $1,000? $5,000?
The truth is, SMB marketing budgets vary from business to business and a multitude of factors (inventory, cash flow, seasonality, etc.) impact their marketing decisions.
But according to Taradel's 2022 Small Business Marketing Survey Report, which polled 166 small business owners and advertisers, 72% of SMBs spend $2,500 or less per month on marketing.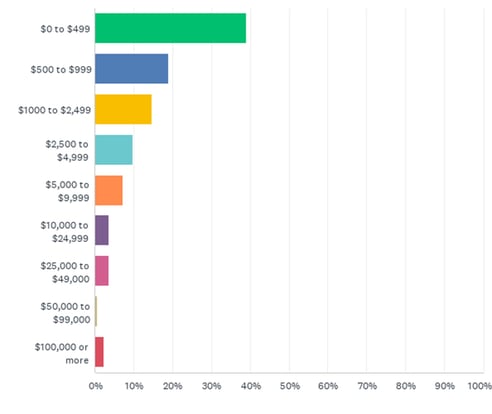 Unlike their larger counterparts, SMBs have smaller budgets — and every marketing dollar is a precious resource.
These start-ups, family-owned, and entrepreneur-led companies must allocate their resources without much margin for error. A single costly marketing error could deal a significant blow to the business.
To mitigate risks and boost ROI, small businesses can use a data-driven, multi-channel marketing strategy. This type of approach can diversify ad deployment across popular media channels while increasing the reach and lifespan of every marketing dollar.
For more information, download a free copy of the complete 2022 SMB Marketing Survey Report.