Survey: Facebook, direct mail generate high ROI for small businesses
In August 2021, more than 160 small business advertisers were surveyed about their marketing practices, channel efficacy, and campaign management preferences.
Notably, 68% of all respondents self-identified as business owners with an additional 26% holding management or senior level roles. A minority of respondents self-identified as serving in junior level or other roles.
One of the questions — "Which marketing channel delivers the highest ROI for your business?" — delivered unique insight into that most effective small business marketing channels.
Here are the results: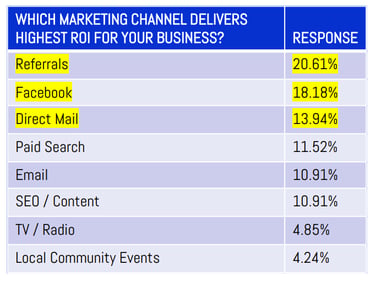 Referrals (20%) - Some things never change. For small businesses, word-of-mouth referrals are a dream come true. Referrals are incredibly powerful because they often occur between friends, family, and community members who trust each other. And secondly, they have zero cost. The downside? Referrals are mostly out of control as there is no way to guarantee that customers will share their experience. What's not to love?


Facebook (19%) - On the digital side, Facebook's high user engagement and general affordability help advertisers convert massive awareness into return on investment. The lasrgest of all social media platforms, Facebook's reach dwarfs that of Instagram, Twitter, and all other socials.


Direct Mail (14%) - Despite the shift towards digital channels, direct mail is alive, well, and extremely effective. There is still no substitute for getting offers directly into the hands' of prospective customers who view print media as more engaging, trustworthy, and personal. With the right offer, in the right hands, the potential ROI payout is huge.
So there you have it — the top ROI-drivers for small businesses heading into 2022. Your business should use a multi-channel approach to marketing to maximize ROI, reduce risks, and increase the reach and lifespan of every marketing dollar.